Every year National Signing Day provides us with almost as much drama as an entire college football season. 2014 was no different.
Personally I didn't get a chance to cover any of the drama this time around. I spent the morning at Georgia Tech, who's class was all but wrapped up by 10:30 am. Paul Johnson did have a nice rant about how he feels about recruiting rankings though.
Here is a look at five of the stranger Signing Day stories I came across.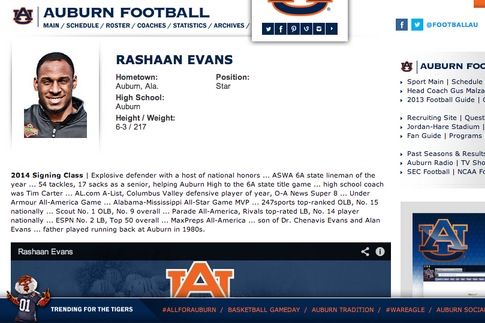 5. Premature Profiles:
Two schools posted signee profiles of prospects who ultimately signed with other schools. Auburn, Ala. linebacker Rashaan Evans got the most attention as the Auburn Tigers posted his signee profile, only to have Evans announce on ESPNU that he was actually headed to the University of Alabama.
Auburn wasn't the only school quick on the trigger. LSU posted a profile for Adoree' Jackson, who ended up signing with Southern Cal instead of the Tigers.
Here is a full story from CBS on the premature profiles: Oops: Auburn posts Rashaan Evans profile, but five-star picks Tide
4. Eastern Michigan gets the Lion King:
Eastern Michigan signed a defensive end from Southfield, Mich. named Lion King Conway. There are reports that he has changed his name to just Lion King, because it would be silly to not to at this point.
Full Story: Eastern Michigan Signs DE Named 'Lion King'
3. James Willis leaves UL for less than 24 hours:
UL Defensive Coordinator James Willis told his players on Wednesday night (after all the faxes had been received of course) that he was leaving the school to take a position as the linebackers' coach at Florida State.
But after sleeping on it, Willis decided on Thursday morning to not leave for FSU and stay put as the Ragin' Cajuns defensive coordinator.
That's a strange case of buyer's remorse, but perhaps Seminole fans will now forget just how short Billy Napier's stay in Tallahassee was.
Full Story: James Willis changes his mind, will stay at UL
2. Mother of top Michigan State recruit won't sign LOI

This seems to happen at least once every year.
Last year it was Arkansas running back Alex Collins' mother who ran off with his letter of intent, and the year before that Josh Harvey-Clemons' grandfather didn't want his grandson to sign with Georgia so he withheld his signature.
This year Malik McDowell's mother won't sign the five-star defensive end's' LOI to Michigan State. As of 7 p.m. ET on Thursday this matter still hasn't been resolved.
I always hate situations like this. Picking a school should be the kid's choice with the parents serving as a sounding board more than anything. McDowell's mother, Joya Crowe, has been rather vocal during the whole recruiting process on social media and even doing local radio interviews.
Hopefully the kids gets to be a Spartan, since you know that's what he wants and all.
Full Story: Southfield lineman Malik McDowell commits to Michigan State, but mother still hasn't signed letter
1. D.J. Law signs with three schools:
Haines City running back D.J. Law signed with not one, but three schools on Wednesday. Ole Miss, Utah and East Mississippi Community College all received letters of intent from Law.
Ole Miss reported the LOI at 9:22 a.m., while Utah announced it later in the day. The Rebels have decided to release Law from the LOI and he will be free to play at Utah.
"Our compliance department is cooperating fully with the NLI office on this matter," Ole Miss head coach Hugh Freeze said in a release. "We are completely certain no wrongdoing occurred by our coaching or compliance staff. Regardless of the outcome of the findings, we want the young man to attend the school he wants. After talking with D.J. and his family, we are releasing him from his NLI and wish him the best. We have put this matter behind us and plan to make best use of that scholarship."
If your sad this story appears to be over- don't be.
From the sounds of things Law has some academic issues that will make him playing at Utah an unlikely scenario, which means he'll head to JUCO and get to do the recruiting process all over again. That is assuming he makes it out of the Bermuda Triangle that is East Mississippi C.C.