After a one-week hiatus let's check back in on the SEC and ACC power rankings.
SEC Power Rankings
14. Kentucky (1-6, 0-4 SEC): After falling in an early hole, the Wildcats almost came up with their first SEC-win of the year, only to fall short to Mississippi State 28-22. Mark Stoops' defense continues to be the weak link. The Bulldogs racked up 447 yards of offense and converted 10 of 18 times third down. Alabama State comes to town just in time.
13. Mississippi State (4-3, 1-2 SEC): I hope Bulldog fans enjoyed the last weeks, because starting on Saturday Mississippi State faces South Carolina, Texas A&M and Alabama all in row. Not good news for a team that let Kentucky hang around.
12. Arkansas (3-4, 0-3 SEC): After a BYE week the Hogs face their fifth straight ranked opponent on Saturday. In its last two losses Arkansas gave up 52 points, and Auburn is averaging 37 points per game. Brett Bielma should probably just lay low for a while, but now he's questioning the tapes that Auburn provided him. His baptism to the SEC continues this weekend.
11. Tennessee (4-4, 1-3 SEC): After a big win over South Carolina two weeks ago, the Volunteers were dismantled by the Alabama machine last weekend. Rajion Neal is on a roll at running back, but that likely ends this week with a trip to Missouri on Saturday.
10. Vanderbilt (4-4, 1-4 SEC): Like Tennessee, Vanderbilt came back down to earth this weekend in a 56-24 loss to Texas A&M after beating Georgia two weeks earlier. Vandy takes a week off before a four game stretch to end the year. The Commodores have a chance to win three of those four en route to second straight bowl game.
9. Florida (4-3, 3-2 SEC): Florida's offense is still a pile of hot garbage and last week's 36-17 loss to a Missouri team playing with its second-string QB really showed just how much of a toll injuries have taken on the Gators' defense. A loss on Saturday to Georgia could really put Will Muschamp's job in jeopardy.
8. Ole Miss (5-3, 2-3 SEC): Thanks to a win over LSU two weeks ago, The Rebels have a really good shot at getting to eight wins this season. It's late in the season and you can see Hugh Freeze' young and talented roster is finally starting to click a little bit. These aren't your daddy's Rebels.
7. Georgia (4-3, 3-2 SEC): With the exception of perhaps this weekend's opponent, no team's season has taken a nose-dive quite like Georgia's. Mark Richt's team comes into the Cocktail Party with virtually no chance at a repeat trip to Atlanta. The good news is the return of Todd Gurley could spurn a strong finish for a young UGA team.
6. LSU (7-2, 3-2 SEC): After stumbling against Ole Miss, LSU made quick work of Furman 48-16 last weekend. LSU's young defense should benefit from a week off before traveling to Alabama in two weeks. Zach Mettenberger's legacy as a Tiger will likely be defined by how he performs against the Tide.
5. Missouri (7-1, 3-1 SEC): Just as Gary Pinkel and Missouri got the whole country ready to buy in on this team, the Tigers lose in double-overtime to South Carolina. Missouri still controls it's own destiny in the division formerly known as the SEC East. The Tigers should get back on track the next two weeks against Tennessee and Kentucky before a defining final two weeks of the season.
4. South Carolina (6-2, 4-2 SEC): After losing to Tennessee two weeks ago, the Gamecocks kept their season alive with a big double-overtime win against Missouri. South Carolina just needs to take care of business against Mississippi State and Florida and they will have a great shot at an SEC East title with Missouri facing Texas A&M to end the regular season.
3. Texas A&M (6-2, 3-2 SEC): The Aggies bounced back from its loss to Auburn with a convincing win over Vanderbilt. Texas A&M's defense continues to struggle, but with Johnny Manziel and Mike Evans that won't matter much until the final two weeks of the season. They finish their horrid non-conference slate this week against UTEP.
2. Auburn (7-1, 3-1 SEC): Is Auburn really the second-best team in the SEC? Probably not, but after Alabama the whole conference is a whole lot of average. Gus Malzahn and Nick Marshall get most of the attention in Auburn's quick turnaround this season, but the defense has come up with big stops lately. If that continues Auburn might have a shot at knocking off Bama.
1. Alabama (8-0, 5-0 SEC): The Crimson Tide's methodical march towards a third-straight national title has gone exactly as planned this season. Alabama has only been tested by Johnny Manziel, and they now have a week off before facing LSU on November 9. There's really no one in the SEC on Alabama's level this season.
ACC Power Rankings
14. Virginia (2-6, 0-4 ACC): Let's just face the facts, Virgina won't win a game in the ACC this season. As bad as North Carolina is, I think the Tar Heels will win in two weeks and the Cavaliers aren't taking down Clemson, Miami or Virginia Tech. Seriously BYU, what the hell happened?
13. North Carolina (2-5, 1-3 ACC): Don't call it a comeback. No really don't. North Carolina finally got back in the win column Saturday with a 34-10 trouncing of Boston College, but it was more exception than the rule. UNC finishes the year with four wins is my guess.
12. North Carolina State (3-4, 0-4 ACC): Look on the bright side N.C. State, you finished strong against FSU. The bad news- all recruits and fans changed the channel when you went down 35-0 13 minutes in. The Wolfpack are bad, but they have a chance to secure some bragging rights to end the season with a game against UNC this weekend and Duke and ECU still on the slate.
11. Boston College (3-4, 1-3 ACC): Steve Addazio just needs to convince his team ever game is the first half against Florida State or Clemson, because outside of that things haven't been very pretty for the Eagles this season. BC fell to lowly UNC 34-10 this weekend. They face Virginia Tech on Saturday.
10. Syracuse (3-4, 1-2 ACC): After defeating N.C. State, Syracuse looked poised to have a solid debut season in the ACC. Then the Orange lost to Georgia Tech 56-0. To that GT team. After a week off Syracuse looks to salvage its dignity against Wake Forest this weekend.
9. Wake Forest (4-4 2-3 ACC): Wake Forest has looked like a different team the last three weeks. The Demon Deacons came up just short in a last-minute 24-21 loss to Miami on Saturday, but Wake has picked up wins over N.C. State and Maryland. It's still going to be an uphill battle to get bowl eligible.
8. Pittsburgh (4-3, 2-2 ACC): Losing to Navy the week before facing Georgia Tech is never a good sign. Pitt's defense is a decent one, but they didn't look good against Navy. Quarterback Tom Savage had a nice day. Pitt fans may be longing for the Compass Bowl by the end of the year.
7. Georgia Tech (5-3, 4-2 ACC): The Yellow Jackets have bounced back wit ha couple nice wins the last two weeks. They'll face a tough test in Pitt on Saturday, before a Thursday night trip to Clemson. A loss on Saturday would really make Tech boosters take a long hard look at Paul Johnson's buyout (they should anyway but that's besides the point).
6. Duke (6-2, 2-2 ACC): Duke has rattled off four straight wins and has a legitimate shot at representing the Coastal Division in the ACC Championship Game thanks to last weekends 13-10 win over Virginia Tech. Aaron Boone just has to not turn it over in the last four weeks of the season and the Blue Devils will share the North Carolina State Championship with ECU.
5. Maryland (5-3, 1-3 ACC): A promising start has gone by the wayside for Maryland in its final ACC season. The Terrapins lost to Wake Forest 34-10 two weeks ago and let Clemson run away from them 40-27 last weekend. The Terps have a shot to win out, starting with Syracuse in two weeks.
4. Virginia Tech (6-2, 3-1 ACC): Someone must have shown Logan Thomas the rankings during the BYE week, because he came out on Saturday and threw up all over himself. Thomas ran for 101 yards and a TD, but he also threw four interceptions as the Hokies lost to Duke AT HOME. If I'm a Hokie defender I have hard time honoring the non-contact jersey in practice. If VT doesn't slip up again this weekend  against BC, then they still control their own destiny with a trip to Miami on November 9.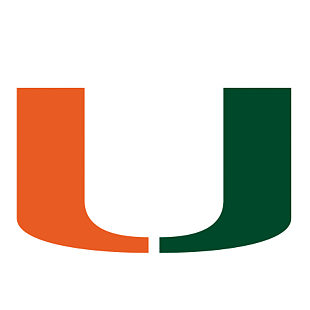 3. Miami (7-0, 3-0 ACC): Miami almost revealed it's true self last weekend as it escaped Wake Forest 24-21. Still Miami is undefeated and comes into Saturday's nationally televised game against FSU ranked No. 7. Miami. I do think the Hurricanes are an up and coming program, but the passing game lacks a game-changer.
2. Clemson (7-1, 5-1 ACC): Clemson started slow against Maryland, but avoided the slip-up with a big second half. If Clemson doesn't lose focus the rest of the season, it's rivalry game against South Carolina on November 30 could be for a BCS at-large bid. The Tigers still have one of the best offenses in the country and their remaining opponents aren't exactly offensive juggernauts (save for maybe USC).
1. Florida State (7-0, 5-0 ACC):  There's not a poll in the country that I wouldn't have Florida State number one in. The Seminoles have been absolutely dominant this season. Jameis Winston is that dude, and the defense is allowing just 13 points per game. As long as FSU continues to win convincingly then they'll have a shot to jump Oregon.