Been a little busy this week getting trained for my new job as an NBA League Pass Operator at Turner (basically I send you national commercials when you're watching an out of market NBA game on all platforms but Direct-TV), so we're doing an energy efficient double dip today with both the SEC and ACC rankings in one post.
Since I'll be watching so many NBA games this year that may lead to some more NBA posts in the future but for now let's stick to college football.
Let's start with the SEC rankings first (I mean the ACC is getting all the attention this week).
SEC Power Rankings
14. Kentucky (1-5, 0-3 SEC): As expected Kentucky didn't put up much of a fight against Alabama this week in a 48-7 loss. The next two weeks are really the last chance the Wildcats will have a legitimate shot at putting back-to-back wins together. They travel to Mississippi State on Saturday, followed by a visit from Alabama State.
13. Mississippi State (3-3, 0-2 SEC): The Bulldogs avoided conference shame over the weekend with a 21-20 win over Bowling Green. Maybe we don't schedule MAC teams that can actually beat us next time around, ok guys? MSU will take a step down in competition this weekend as it hosts UK.
12. Vanderbilt (3-3, 0-3 SEC): After a week off Vanderbilt starts a three-game stretch against Georgia, Texas A&M, and Florida with the Dawgs at home on Saturday. So far this season the Commodores have allowed at least 24 points in four of six games. That doesn't bode well for games with UGA and the Aggies.
11. Tennessee (3-3, 0-2 SEC): The Vols had a week off to get over a heartbreaking overtime loss to Georgia, but unfortunately for them it looks like South Carolina got its act together during that week. Barring a big upset during the final stretch of the season, Butch Jones will be able to get a head start on recruiting evaluations during bowl week.
10. Arkansas (3-4, 0-3 SEC): With Saturday's 52-7 loss to South Carolina, the Hogs have now lost four straight games going into this week's tilt with Alabama. After a great start, Arkansas may not find the W column again until it host Mississippi State on November 23.
9. Ole Miss (3-3, 1-3 SEC): The Rebels put on a heck of a show against Texas A&M, but ultimately couldn't come up with a stop in a 41-38 loss. Now Ole Miss' defense gets the chance to try and slow down Zach Mettenberger and LSU's air attack on Saturday. Good news is after that week the Rebels have three very winnable games to get bowl eligible.
8. Auburn (5-1, 2-1 SEC): Auburn handled Western Carolina 62-3 over the weekend, and were impressive enough to enter the Top 25 at No. 24. The Tigers now have a chance to prove that Gus Malzhan really does have the program back on track with a trip to College Station this weekend.
7. Florida (4-2, 3-1 SEC): Florida's offense stalled in a 17-6 loss at LSU Saturday. The Gators defense is still the best in the county, but once again it looks like against good teams the offense will be non-existent this season. Especially with running back Matt Jones lost for the year to a knee injury.
6. Georgia (4-2, 3-1 SEC): Georgia's injuries and inability to tackle anyone with a pulse finally caught up to them on Saturday in a 41-26 loss to Missouri. Running back Todd Gurley is close to returning according to UGA, but it might be in there best interest to give him minimal work against Vandy with Florida looming.
5. Missouri (6-0, 2-0 SEC): Missouri and Gary Pinkel earned their signature win in Athens over the weekend. The Tigers are just one of two undefeated teams left in the SEC and currently sit at No. 14 in the polls. But things aren't as great as they seem, quarterback James Franklin was likely lost for the rest of the regular season against UGA with a separated shoulder. I don't like Missouri's chances against UF (this weekend) or USC (next weekend) without that guy.
4. South Carolina (5-1, 3-1 SEC): Well it would appear that Jadeveon Clowney and the USC defense heard Steve Spurrier's message loud and clear last weekend. The Gamecocks dismantled Arkansas on the road, a place they never play well. With the way Connor Shaw and Mike Davis are playing, USC could be in the driver's seat for control of the East.
3. LSU (6-1, 3-1 SEC): LSU's defense came up huge in its win over Florida this weekend. The struggling unit gave up just 240 yards of offense and recorded four sacks. (yes UF's offense isn't very good, but it's the only game LSU hasn't allowed a TD in this season). The defense will be put to the test in Oxford this weekend against Ole Miss.
2. Texas A&M (5-1, 2-1 SEC): The Aggies won another thriller over Ole Miss this weekend. They'll face another good test in dual-threat QB Nick Marshall and Auburn this weekend, but if TAMU can get by the Tigers they'll set up a pretty dramatic three-way race to the finish line for SEC West. As long as Johnny Football stays healthy, the Aggies are a contender.
1. Alabama (6-0, 3-0 SEC): Here's the goal for Alabama the next two weeks: Stay healthy against Arkansas and Tennessee prior to its November 9 showdown with LSU. After a bit of a slow start (for Bama standards), the running game and defense seem to be back up to speed.
ACC Power Rankings
14. North Carolina (1-4, 0-2 ACC): North Carolina didn't play this week, but that wasn't long enough for me to forget just how bad the Tar Heels have started 2013. They stay in last-place heading into Thursday night's home game against No. 10 Miami.
13. Virginia (2-4, 0-2 ACC): Virginia almost stole on over the weekend from a banged-up Virginia, but fell 27-26. The Cavs racked up 505 yards of total offense, behind 112 yards rushing by Kevin Parks. While the signs of life are good to see from UVA, I don't really see another W for them in 2013.
12. North Carolina State (3-3, 0-3 ACC): We can keep talking about how this is still Tom O'Brien's fault, but at some point Dave Doren has to get his new guys to buy in. A 24-10 loss to Syracuse didn't help matters. N.C. State has the week off before traveling down to Tallahassee in two weeks. The good news is that Jacoby Brisset will take over at QB next season.
11. Wake Forest (3-3 1-2 ACC): After an off-week its Wake Forest's turn to see if they can give Maryland a nice ACC parting gift in Winston-Salem this weekend. The Demon Deacons have look pretty pedestrian so far this season, but somehow Jim Grobe has found ways to win games. They have work to do to go bowling, but somehow it might not be out of the question.
10. Boston College (3-3, 1-2 ACC): Boston College once again but a scare into a superior opponent this weekend in a 24-14 loss on the road to No. 3 Clemson. The Eagles look physical and if they can find a way to play like they did in the first half against Clemson and FSU, they could bloom into the dudes that Steve Addazio always dreamed of.
9. Duke (4-2, 0-2 ACC): Duke came up with a nice 35-7 win over Navy on Saturday. The Blue Devils are averaging 35.8 points per game this season, and will be boosted by the return of Anthony Boone at QB. They travel to UVA this weekend.
8. Georgia Tech (3-3, 2-2 ACC): The Yellow Jackets free fall continued this weekend with a 38-20 loss to BYU on the road. It's the third-straight loss for GT heading into this weekend's home game against Syracuse. Vad Lee can't seem to get out of his own head, throwing his fifth interception of the season Saturday. 
7. Syracuse (3-3, 1-1 ACC): Syracuse picked up its first ever ACC win on Saturday in Raleigh. The Orange are playing pretty good football so far this season with a rushing attack ranked 23rd in the nation, and a defense allowing 24.5 points per game.

6. Pittsburgh (3-2, 2-2 ACC): For the second straight game, the Panthers offense struggled on Saturday against Virginia Tech in a 19-9 loss. Pitt had just 23 yards rushing in the loss and a Tom Savage completed just 13 of 28 pass attempts. Pitt has a chance to build some momentum the next three weeks before hosting Notre Dame on November 9.
5. Maryland (5-1, 1-1 ACC): So here's what we know about Maryalnd so far this season: They're way worse than Florida State and just one point better than Virginia when they don't have starting QB C.J. Brown. Brown (concussion) should return this weekend against Wake Forest.
4. Virginia Tech (6-1, 3-0 ACC): With the way Logan Thomas has been playing the last few weeks I think that Frank Beamer and the Hokies would like to skip the BYE week this weekend if they could. VT is up to No. 19 in the polls. Perhaps Virginia Tech can find a running game during the week off.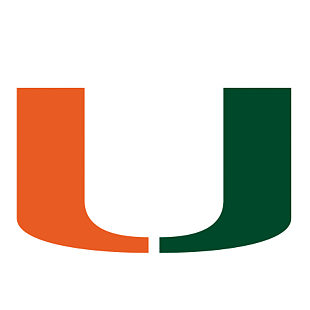 3. Miami (5-0, 1-0 ACC): The Hurricanes became a Top-10 team during the BYE week. The trick now for Miami will be to avoid the ACC trademark of losing to inferior opponents. That task begins with a Thursday night road game against UNC this weekend, with a classic trap game against Wake Forest trapped between that game and a trip to Tallahassee.
2. Florida State (5-0, 3-0 ACC):  The Seminoles were off last week, giving them an extra week to prepare for the colossal showdown with Clemson this weekend. Jimbo Fisher seems to have loosened the reigns a little bit this week, allowing the football players to judge and help the basketball team with their dunk contest and inviting ESPN in all day on Monday for multiple live All-Access shots on SportsCenter.
1. Clemson (6-0, 4-0 ACC): After a slow start, Clemson's defense and Tajh Boyd carried the Tigers in the second half of a 24-14 win over BC. Boyd finished with 334 yards passing, while a sack and forced fumble by Tony Steward sealed the deal as Vic Beasley returned it for a score. Saturday's game against FSU will catapult either team firmly into the BCS Championship discussion.