A little movement in the energy efficient ACC rankings this week. Virginia Tech makes the biggest jump going from No. 10 to 5 with a win over Georgia Tech. North Carolina brought shame on the conference by getting blown out by ECU, thus the Heels fall from 6 to 13.
14. Wake Forest (2-3 0-1 ACC): The Demon Deacons fell to Clemson 56-7 last weekend. Wake Forest gave up 573 yards of total offense. They gave up a 64-yard touchdown pass just 45 seconds into the game. Wake remains the worst team in the ACC.
13. North Carolina (1-3, 0-1 ACC): Really North Carolina? You let East Carolina come into Chapel Hill and put up 55 points on Homecoming? The Purple Pirates racked up 603 yards of total offense in the game. Afterwards the Tar Heels admitted they didn't bring any energy because they were playing ECU. How does that happen Larry Fedora?
12. Duke (3-2, 0-2 ACC): The Blue Devils won a shootout at home with Troy 38-31 on Saturday. The defense has looked really bad for Duke the last three weeks, and while quarterback Brandon Connette has filled in nicely with 11 touchdown passes, there aren't many surefire wins left on the schedule. Duke is scheduled to play Navy on Saturday but politics could get in the way.
11. Boston College (2-2, 1-1 ACC): Boston College put a scare into Florida State early, jumping out to a 17-3 lead. FSU looked like it was going to run away with it for a while, but the Dudes never gave up and made it closer than the 48-34 score indicates. With the government shutdown, the Eagles could be off this weekend with a visit from Army on the schedule.
10. Syracuse (2-2, 0-0 ACC): It's time for Syracuse's welcome to the ACC moment this weekend. They host the fourth-ranked Clemson Tigers. So far this season the Orange have looked over-matched against BCS AQ schools. I'll be interested to see how the Carrier Dome reacts to its first ACC game, especially with a top-four opponent.
9. Virginia (2-2, 0-1 ACC): Virginia just looked sad on Saturday against Pitt. The Cavaliers fell 14-3 on the road. UVA's offense just couldn't get anything going. The defense allowed just 199 yards of total offense and eight yards rushing. UVA hosts Ball State on Saturday.
8. North Carolina State (3-1, 0-1 ACC): The Wolfpack scored in all three phases of the game on Saturday with a pick-six and a punt return for a touchdown in a 48-14 win over Central Michigan. Junior wide receiver Bryan Underwood had 190 yards of total offense, including 148 yards receiving.  Just have to avoid the road slip-up this weekend at Wake Forest.

7. Pittsburgh (3-1, 2-1 ACC): Talk about an ugly win. Neither team reached 200 yards of total offense. Pitt turned the ball over three times and yet still came out on top of UVA 14-3. The Cavs turned it over twice and the Panthers' defense carried the team in the first off day of the year for Tom Savage really. Pitt has a chance to really make a statement at Virginia Tech on Saturday.
6. Georgia Tech (3-1, 2-1 ACC): Remember when I said this was Paul Johnson's most dynamic offense since he arrived at Tech? Yeah so maybe I'm partially to blame for the Yellow Jackets' offensive ineptitude on Thursday in a 17-10 loss to VT. GT averaged just 3.1 yards per carry on the ground and turned it over three times. There's no time to wallow on the loss for GT though, with a trip to Miami this weekend.
5. Virginia Tech (4-1, 1-0 ACC): The Hokies make the biggest jump in the ACC poll this week going form 10 to 5. Logan Thomas looked almost like an actual quarterback on Thursday, completing 19 of 25 pass attempts for 221 yards and a touchdown. He also was VT's leading rusher with 58 yards and a touchdown on 16 carries. If he can just not be terrible, then VT could control the Coastal because it has the best defense in the conference (and maybe the country).
4. Maryland (4-0, 0-0 ACC): The Terps were off this week as they prepared for a trip to Tallahassee to face No. 8 Florida State. C.J. Brown has been impressive this season, completing 66.7 percent of his passes and rushing for 283 yards and six touchdowns already. I can't wait to see what crazy helmets Maryland breaks out for one of the biggest games in Randy Edsall's tenure.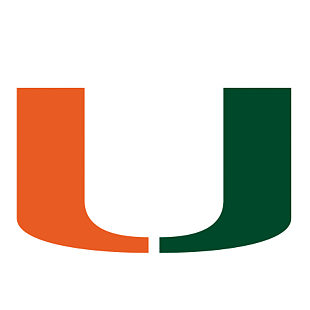 3. Miami (4-0, 0-0 ACC): The Hurricanes open up ACC play against GT this weekend after a 49-21 win over South Florida last weekend. Still not sure what to make of this Miami team, but until they slip up they've earned the No. 3 spot in this poll and are No. 14 in the Coaches' Poll. Stephen Morris was injured against USF but did practice on Monday.
2. Florida State (4-0, 2-0 ACC):  Florida State looked anything but crisp early against Boston College before Jameis Winston and the offense took over. The defense raised cause for concern, but the No. 8 Seminoles still won by 14 points. Saturday will be the fist time this season really that the offense will truly be tested as Maryland comes to town. FSU fans and ESPN execs will be holding their breath throughout the Noon tilt with the Terps.
1. Clemson (4-0, 2-0 ACC): Not much to update you with on the Tigers except that they're still really good. Clemson cruised by Wake Forest 56-7 and shouldn't have any trouble with Syracuse in its first trip to the Carrier Dome. Tajh Boyd is making a legitmate Heisman stake with his start to the year. The reigning ACC player of the year has already thrown for 994 yards, nine touchdowns and no picks, while rushing for four scores as well.